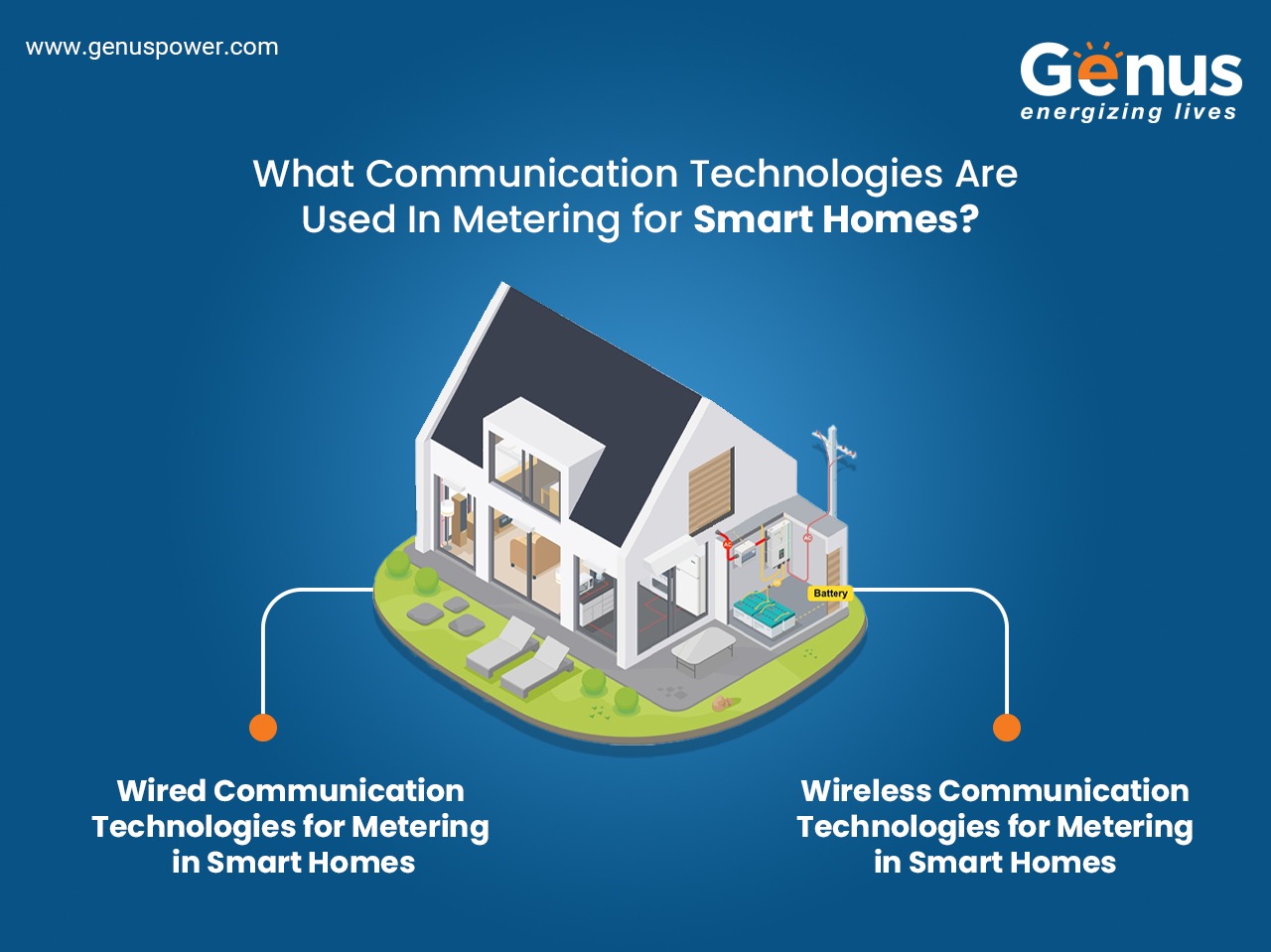 Ever since the prospect of sharing and analyzing electricity usage of consumers came into the picture, communications became the central pillar in the metering of smart homes. Each meter is expected to transmit data in a secure and reliable manner to a centralized entity. Given the different environments in which meters are installed, this is no easy feat to achieve.
Today, with the diversity of available communication networks, choosing one technology has become even harder. No single option has been outright optimal so far. Instead, most DISCOMs use a medley of available technologies to achieve the effect. 
Nowadays, DISCOMs in Europe and the United States are embracing the use of cellular LTE technology to facilitate communication between smart home technologies. 
Let's navigate through the many communication technologies available for smart metering.
1. Radio Frequency Mesh (RF Mesh)
Unlike wired communication technologies like PLC, RF mesh allows wireless communication as a core function of AMR (automatic meter reading). It is one of the most compatible metering communication solutions for smart homes. The RF system operates by collecting data and measuring power consumption through the installation of a dedicated module in the meters.
The utilization of RF Mesh technology boasts a multitude of benefits, most notably its low-power connectivity, which translates to cost-effective and energy-efficient operations. The wireless nature of RF Mesh enables advanced smart metering functionality, further enhancing its capabilities. The integration of these modules into existing single-phase or 3 phase meter box India is also a seamless process, making it an attractive option for many industries.
However, it must be noted that RF Mesh is limited in range and is only suitable for areas with high concentrations of RF modules. Despite these challenges, RF Mesh remains a promising technology that holds a bright future in the world of wireless communication.
When it comes to offering reliable and fast communication technologies to the fullest, we at Genus have been leading the charge in smart metering solutions for a while now. Choose meters from Genus company to pursue new efficiencies and sustainability. 
2. Cellular Narrowband IoT (NB-IoT)
In response to the formidable challenge posed by Semtech's LoRa technology, 3GPP quickly developed a rival, the NB-IoT. As a member of the LPWAN technology family, NB-IoT stands as a strong competitor to LoRa, offering extensive cellular connectivity through its extensive network partnerships.
Adding NB-IoT to your existing PLC/RF Mesh infrastructure allows you to take meters to places that would otherwise be inaccessible. One of the major benefits is that it costs less than any other M2M technology, and its reliability is unparalleled in the IoT industry. NB-IoT eliminates the need for concentrators or gateway devices and meter readings in remote locations. Additionally, it allows easy data visualization, thanks to unified dashboards. And to that end, Genus provides the best single phase meter box price without compromising on reliability or quality. 
3. Cellular 4G
The popularity of LTE-M for smart metering is limited due to its higher energy consumption compared to NB-IoT. Nevertheless, LTE-M boasts substantial improvements in data throughput and latency. It remains to be seen whether it can rival NB-IoT in the future, as the utility industry should conduct thorough assessments. Both NB-IoT and LTE-M represent cutting-edge of cellular IoT technology and hold great potential to become worthy contenders for smart meters solutions in the near future. 
In Summary
With such a variety of communication technologies available, DISCOMs can easily carry out data transmission and pursue new cost and resource-based efficiencies. 
Get the best smart metering solutions from Genus Power and make smart metering a breeze for your consumers and organization. Connect with us today to learn more!