Manufacturing
The company has patriotism at its core and love of the nation is what drives the company to new heights. Since inception, Genus Power has been following the ideology of using Indian technology, products and resources to produce systems that are truly "Made in India"; long before "Make In India" became a mission for the government.To convert its research into reality the company established six manufacturing units in Rajasthan, Uttrakhand and Assam with a constructed area of approx seven lakh Square feet. These facilities provide Genus with the capability to multiply its production manifold and to meet the demands of the ever growing power sector. A visit to these facilities will enforce your faith in the quality of Genus products.
Integrated Manufacturing Facilities
Complete forward and backward integration to deliver quality products at affordable prices.
Automated SMT Lines
Equipped with high capacity automated SMT lines with JUKI, SAMSUNG, FUJI automatic placement systems.
Reflow and wave soldering
BTU Reflow soldering machine and SEHO wave soldering machine for reliable soldering of SMD and conventional components on the PCB.
Clean room PCB Assemblies
The PCB assembly is carried out in static safe, Class10,000 and 1,00,000 Clean room work areas.
In-house tool room
Our in-house tool room rivals the world's best, with advanced CAD/CAM software such as AutoCAD, Creo Parametric, Unigraphics etc, CNC machines and injection moulding machines ranging from 50 tonnes to 450 tonnes.
Quicker prototyping
Genus is equipped with 3D printers for fast prototyping of plastic components / parts.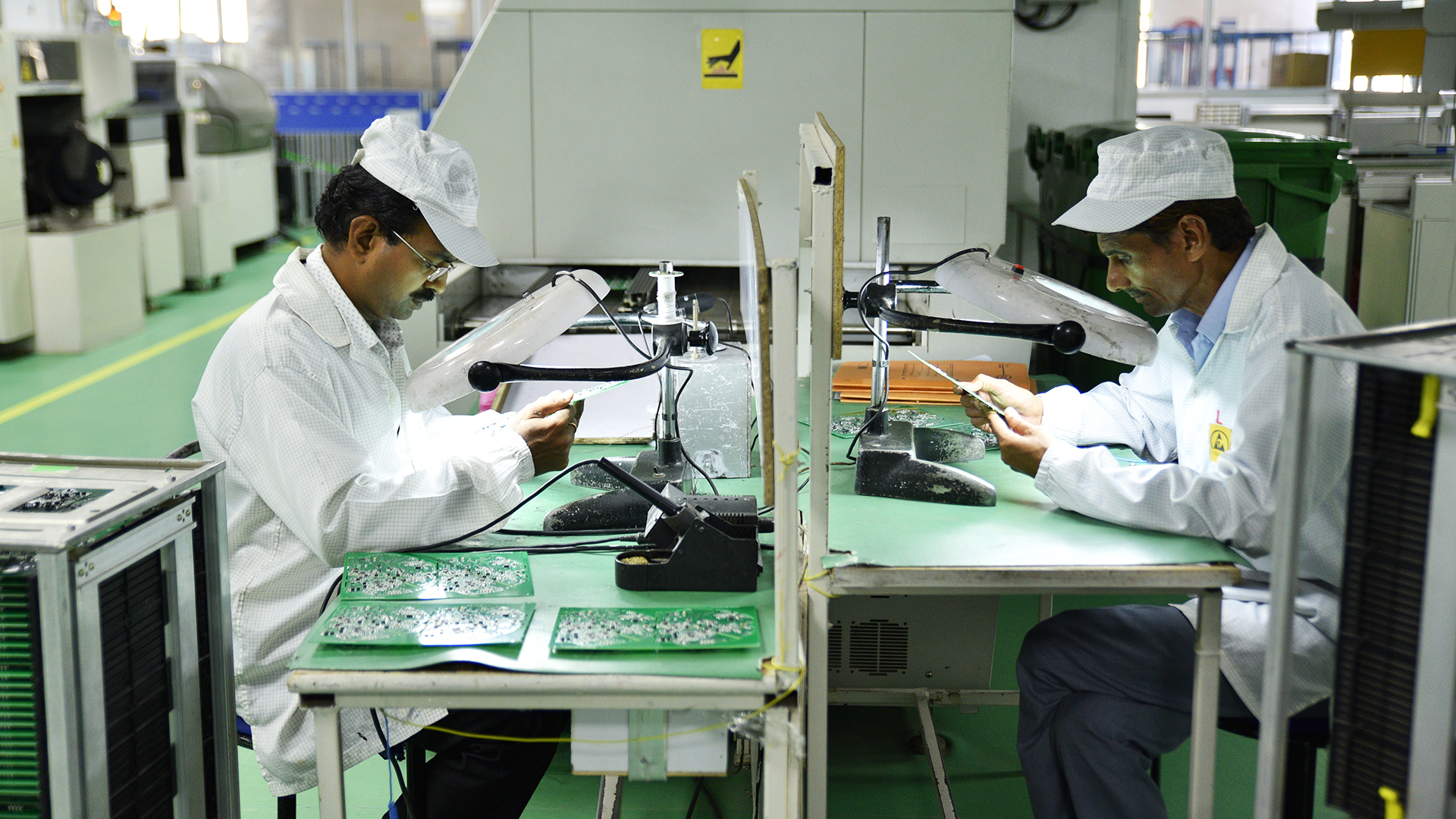 Quality Assurance
Quality is the hallmark of Genus products and services. This is accomplished by establishing a dynamic and a vibrant Integrated Management System complying with the international best practices. Genus believes in creating a culture of continually improving the Products, Processes, and Systems. Genus products are designed, manufactured and tested in accordance with the relevant Indian and international standards and customer requirements.
Comprehensive testing is carried out on state of the art test facilities at various stages of product manufacturing starting from incoming raw material/components to in-process stages and to the final finished and packed product. A Series of reliability tests are conducted periodically both on in-house reliability chambers and from NABL approved outside test labs, to establish a satisfactory life of the product in the hands of the customer.
Innovation & R&D
In its endeavor to always stay a step ahead of competition; Genus Power has invested heavily in its world-class research and development division. The R&D wing of the company is all about perfect balance between constant research, proven technologies and hand-picked professionals from diverse specialties. The state of the art labs are armed with cutting edge machines, NPD approach, EMI, EMC , reliability test set ups and the latest design software such as Orcad, AutoCAD, Unigraphics, Creo Parametric.The R & D centre is duly recognized by Ministry of Science & Technology, Govt. of India and with labs certified by the National Accreditation Body for Testing Labs 'NABL'. The company has its own In-house world class tool room, equipped with an array of finest equipment and advanced software that enables Genus to cater the demand of exceptional customization with highest standards of exclusivity and modern elegance. Genus is accredited with various national and international certifications/ recognitions such as BIS, KEMA, SABS, STS, ZIGBEE, UL, DLMS etc.
The intangible benefits derived out of national and international recognition for our Research and Development function – such as DSIR recognition for R&D; being a CMMI Level 3 company; NABL accredited laboratories; ISO 9001 certification; and others – give us an edge in talent management and an additional confidence of our customers in our products and solutions.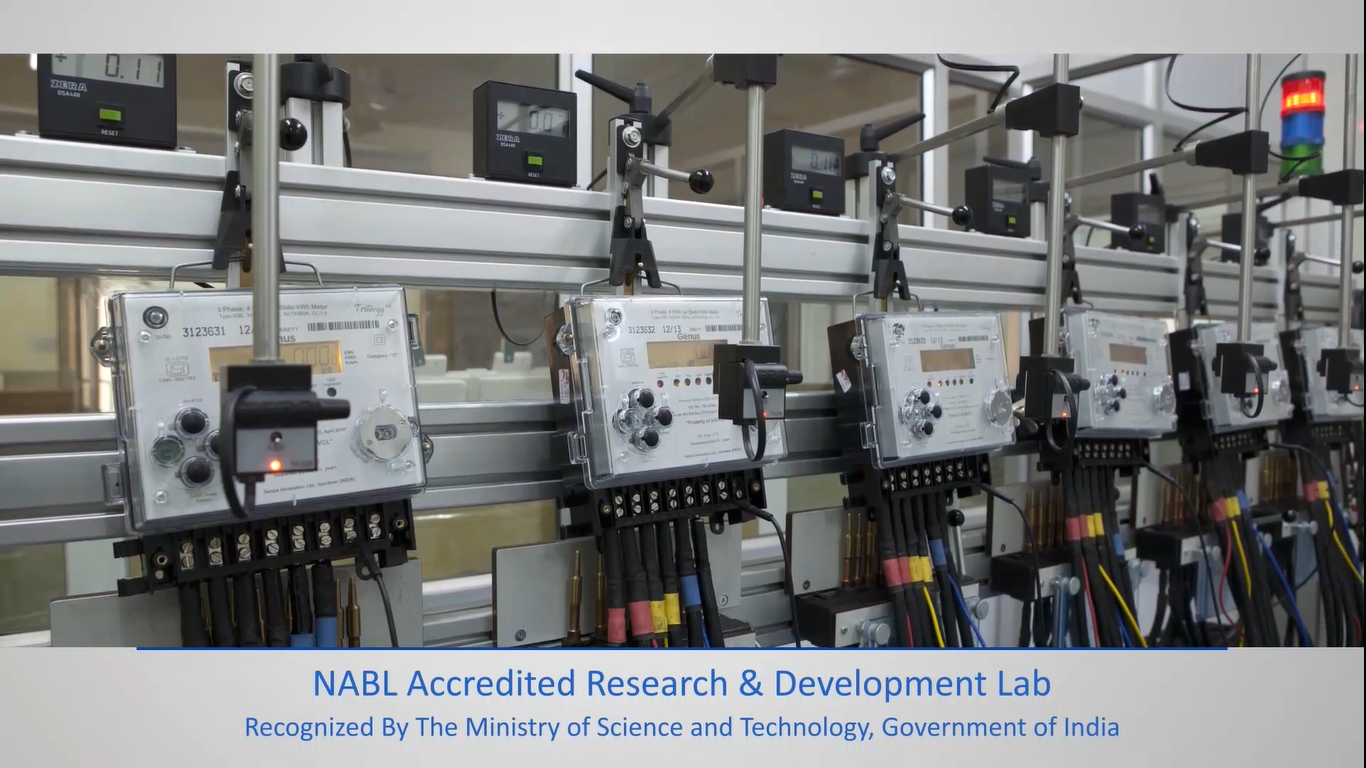 In-House NABL Accredited Electronic Energy Meter Testing Laboratories
GENUS POWER INFRASTRUCTURES LIMITED METERING LAB
SP1-2317, RIICO Industrial Area, Ramchandrapura, Sitapura (Ext.), Jaipur, Rajasthan
GENUS POWER METERING LABORATORY
Plot No. 09, Sector 02, SIDCUL, Ranipur , Haridwar, Uttarakhand
GENUS POWER INFRASTRUCTURES LIMITED METERING LABORATORY
Plot No. 12, Sector 04, SIDCUL, Ranipur , Haridwar, Uttarakhand
GENUS POWER METROLOGICAL LABORATORY

(Under Process of Accreditation)


Plot No. 104, Brahmaputra, Industrial Park, Amingaon, Dis.Kamrup(Rural), Guwahati, Assam