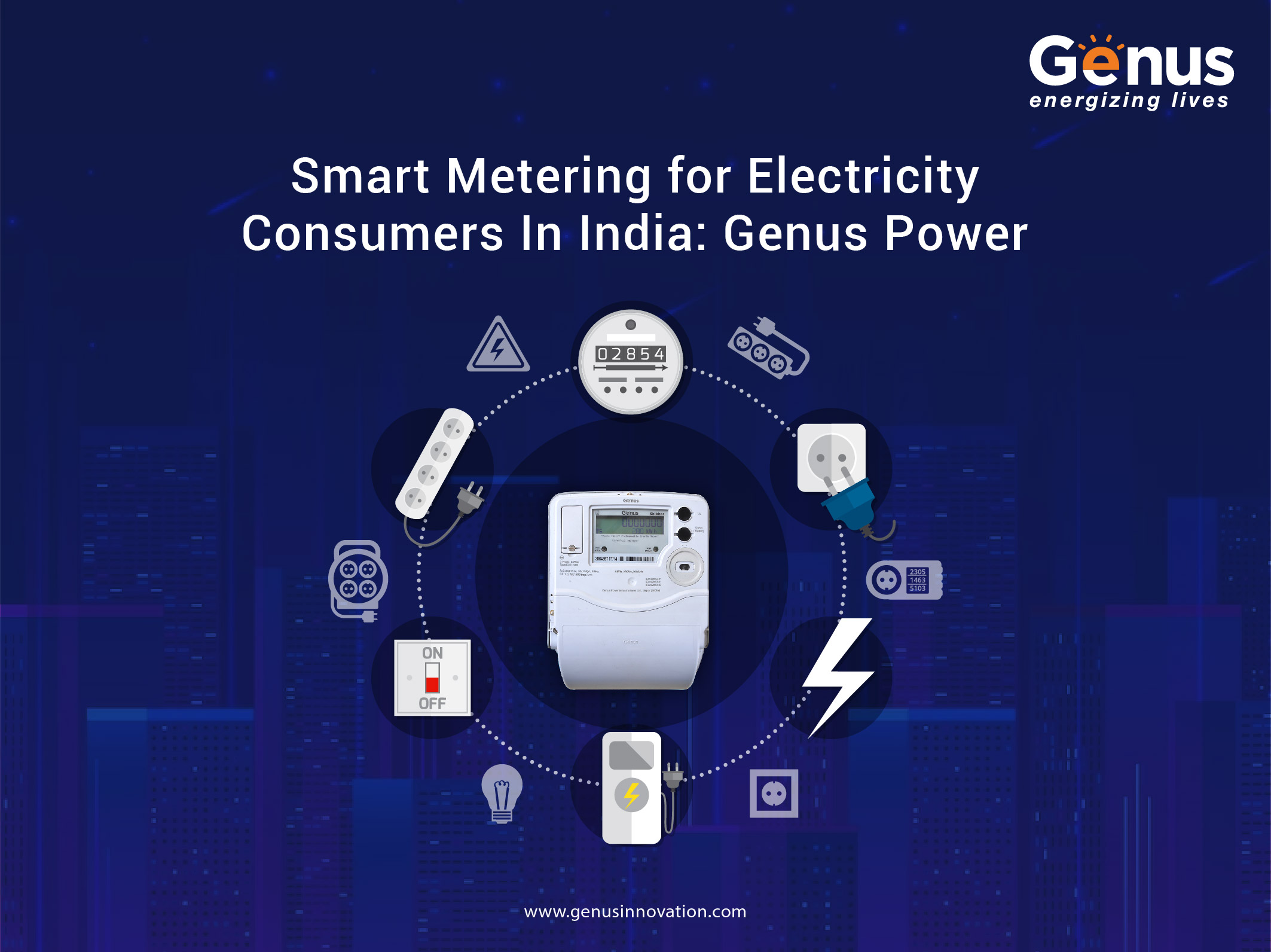 India is set to adopt advanced smart metering technology, bringing a significant change in the way electricity consumers receive and pay their bills. In the 2020 union budget speech, the Finance Minister declared the nationwide replacement of traditional consumer meters with smart meters by 2022.
The idea has gained significant momentum, and primarily under the Smart Meter National Program (SMNP) initiated by the Government of India, under the Energy Efficiency Services Limited (EESL), India has already installed more than 2 million smart meters.This blog highlights the benefits of smart metering solutions for electricity consumers in India, its benefits, the challenges associated with it, and how Genus Power is contributing to this technological change. 
What is Smart Metering? 
Smart metering involves the use of advanced digital electricity meters that measure the consumption of electricity in real time and send the data to the utility company for billing and analysis purposes.  This technology allows meters to automatically collect and transmit consumption data, allowing utility provider companies to better manage their distribution networks and improve service delivery. 
Driven by the need to improve energy efficiency, the adoption of smart metering technology has helped in reducing carbon emissions and provides customers with greater control over their energy usage. Smart meters usually come in three-phase meter connections suitable for industrial and commercial spaces, while the single phase energy meter connection is best suited for household usage. 
Traditional Meters Vs. Smart Meters 
Traditional meters meet the basic requirements of measuring electricity consumption by a specific account. And to generate a bill, the utility company must send a representative to physically inspect the meter and record its reading. In cases where a visit is not feasible, the utility company would generate an invoice based on estimated usage, as these meters do not store any data. This has drawbacks for both the customer and the business.
On the other hand, smart meters have capabilities far beyond mere energy consumption calculation for monthly billing. It eliminates the requirement for manual meter readings as they transmit data to the utility company's offices automatically, enabling them to generate bills without the need for physically visiting each customer's residence. 
Also Read:-What are the Factors Driving the Smart Electricity Meter Rollout in India?
Smart Metering and Its Benefits 
One of the major advantages of using a smart meter is that it eliminates the need for manual meter readings by sharing consumption information remotely with utility offices, enabling them to generate electricity bills without physically visiting every customer's home. 
Additionally, the system provides real-time energy usage data as well as cost estimations for the company across hourly, daily, weekly, and monthly timeframes. Smart metering solutions allow for eliminating the risk of estimated invoices and human errors through billings generated on actuals, utility companies can enhance their transparency image. Moreover, smart power meters are advantageous in terms of energy efficiency as these meters store the data and make it easily accessible to the customer and the company, providing a better understanding of energy consumption patterns. 
Genus Power's contribution to the development of Smart Metering
At Genus Power Infrastructures Limited, we have played a significant role in the development of smart power metering technology. In 2020, Genus Power became the first Indian company to supply 1.5 million smart meters to the Energy Efficiency Services Limited (EESL) of India, a major milestone in the development of smart metering technology. The deployment of these smart meters has revolutionized the way in which electricity is monitored and managed in India. 
Benefits of using Genus Power's Smart Meters
Genus Power Infrastructures Limited offers a range of single and three phase energy meter and 3 phase meter box India solutions in India that provide accurate and real-time data on energy consumption. These smart meters are equipped with advanced communication technologies such as GPRS, PLC, and RF, enabling seamless integration with the utility's network. Genus's smart energy meters feature a compact design, making them easy to install and maintain. 
The single phase smart meters come with many security features like GSM/GPRS modem, tamper detection, RTC time synchronization, peak load management, and more. And the three-phase, designed for commercial and industrial use, comes with tamper detection, overload protection, and remote communication capabilities, allowing businesses to manage their networks more efficiently. 
Conclusion
The adoption of smart power metering technology in India is a major milestone toward ensuring energy efficiency and transparency in billing processes. Genus power provides meters provide reliable and efficient smart metering solutions for utilities seeking to modernize their metering infrastructure and improve their overall energy management. 
Switch to Genus Power's smart meters, never worry about energy losses, and take control of your energy consumption while enjoying hassle-free billing and seamless integration with our state-of-the-art communication technologies. Visit our website to shop now.