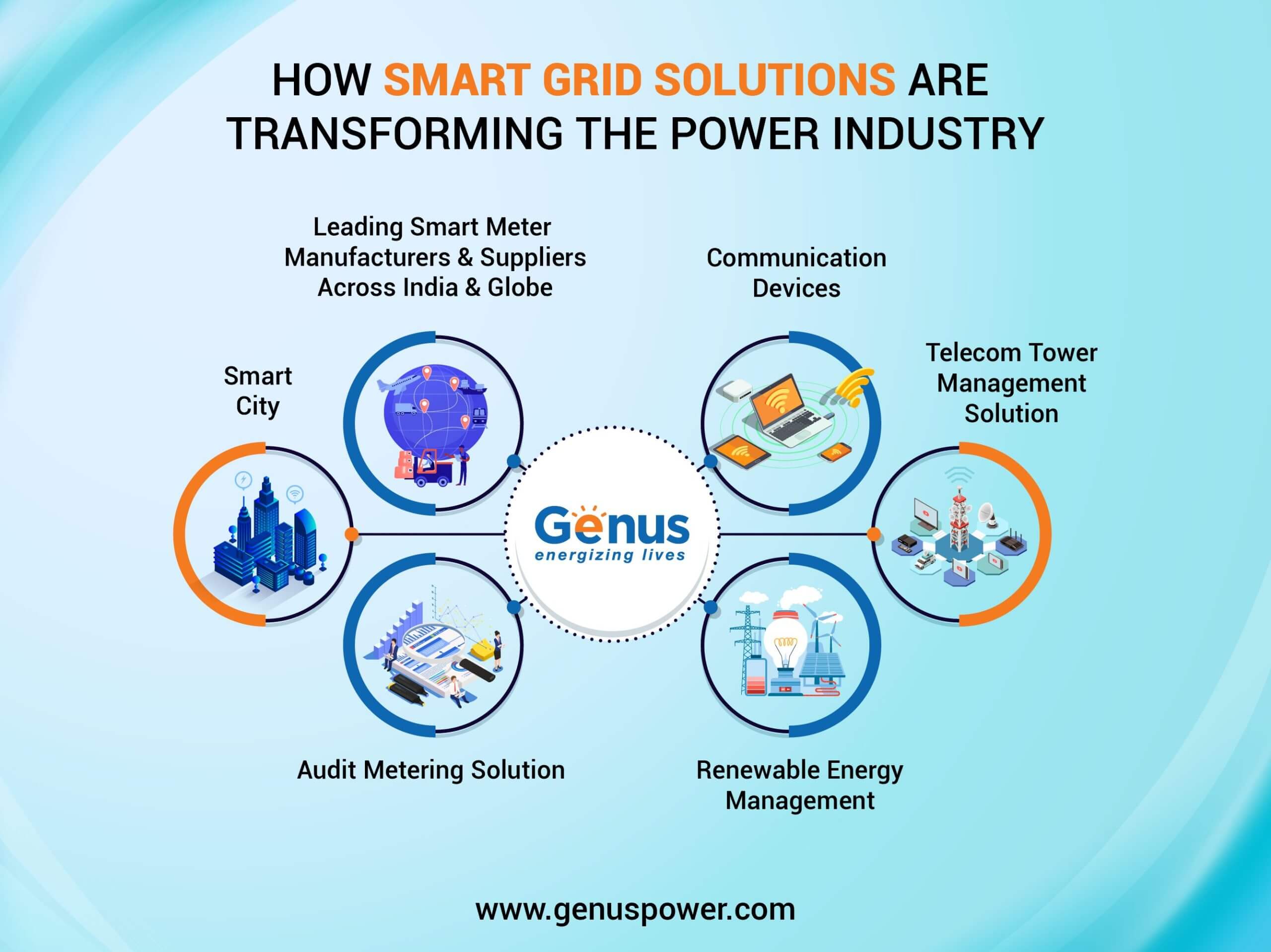 Traditional grid technologies carry out a simple function, transmitting electrical power produced at a central power plant to the consumers. To perform this, the power industry is reliant on generating stations, cables, transformers and energy meters. 
Smart grids, on the other hand, perform all these conventional functions while providing additional capabilities such as improved monitoring of all grid assets for quicker response times and better control on them to provide better service.
Given such benefits, it is undeniable that smart grid solutions are changing the way the power sector works – in terms of overall operation, efficiency, and costs. Read on to find out how smart grid technology is revamping the power distribution sector. 
Better Distribution Grid Management For The Power Industry
For the distribution of energy, you require elements like transformers, poles, and wires, which collectively make up the distribution grid. Obviously, you must ensure proper management of all the components involved, in order to provide energy reliably to your consumers. 
To that end, a system capable of gathering, organizing, and analyzing real-time (or near-real-time) status information of the grid is what you're looking for. 
With such technology at the disposal of the power industry, one can seamlessly prevent failures, improve efficiency, fine-tune energy flow, and ultimately, meet targets. Plus, it can also work in synergy with other systems to facilitate interoperable distribution operations. 
And smart grid technologies can make all of this possible, with capabilities such as predicting faults before they happen, cutting costs wherever possible and delivering faultless, reliable power to consumers. 
For DISCOMs looking to upgrade their infrastructure upkeep, smart metering solutions from Genus Company could be your best companion. Visit our website to learn more. 
Advanced Metering Infrastructure
Also known as AMI, this technology (brought to life by smart metering solutions) facilitates the duplex flow of information between utility providers and consumers. 
The circulating data includes consumption amount, consumption time, and appropriate pricing, which enables the upgraded grids to provide a wide range of functions as opposed to conventional grids.
Here are some of the functions that AMI enables:
Remote consumption control

Consumption forecast

Time-based pricing

Remote connection toggling of users

Outage and fault detection

Effective cash collection and debt management

Theft detection and loss measurements

Consumer engagement and empowerment
By having such functionalities, players in the power industry can gain better control over power quality and efficiency in worldwide smart grids. However, the data flow does raise concerns over the integrity of privacy and confidentiality.
But with cybersecurity measures being developed side-by-side, by the time smart grids become a norm, the security of the data stream will no longer be an issue. 
Smart meters are the basic building blocks of advanced metering infrastructure. And for the best metering products, turn to Genus' range of leading-edge smart energy meters. From 3 phase energy meter to single-phase variants, we manufacture smart metering solutions for any electrical supply configuration. 
Enhanced Demand Response For The Power Industry
Demand response (DR) is one of the more popular emerging applications for demand‐side management (DSM). With accurate demand response, utilities can improve grids' reliability by virtue of services such as frequency control, spinning and operating reserves, and applications that enable a reduction in wholesale energy prices and their volatility. 
Further, the development of regulatory commissions in partnership with the wholesale market, along with policy support, has enabled enhanced demand response applications in grid technology. 
From the customer's perspective, there are two categories of demand response systems:
Price‐based DR

:  Here, the consumers optimize their power consumption in response to prices that vary with time, the pricing structure of which is created by their utility providers in order to maximize their electricity usage, as well as the savings on bills.

Incentive‐based DR

:  Here, customers get increased benefits for judicious use of power, a sort of incentive to change their consumption behaviour during peak periods. This allows consumers to have a greater role in the operation of the

power industry

, with their actions influencing the balancing of supply and demand. 
Situational Awareness Over a Wide Area
Tracking and monitoring power systems spread across a large geographical area can be an operational nightmare. However, smart metering solutions can effectively provide grid operators with a dynamic and broad picture of how the grid is functioning in real-time. Having the right information at the right time allows for efficient analysis and operation of the power system.
Ultimately, the goal here remains the same – to optimize and understand the reliability and efficiency of the smart grid via the performance data and predict whether necessarily you need to make any changes for any issues that abound. 
Make smart grid possible today with Genus' wide range of intelligent metering solutions. Connect with us to avail the best single phase meter price.
Wrapping Up
From better demand pricing to enhanced monitoring, smart grid solutions can provide a ton of value to the current power infrastructure, opening up opportunities for savings, sustainability, and better service.
For cutting-edge, reliable metering solutions, Genus Power can meet all your needs. Get in touch with us today to know more about our metering products.