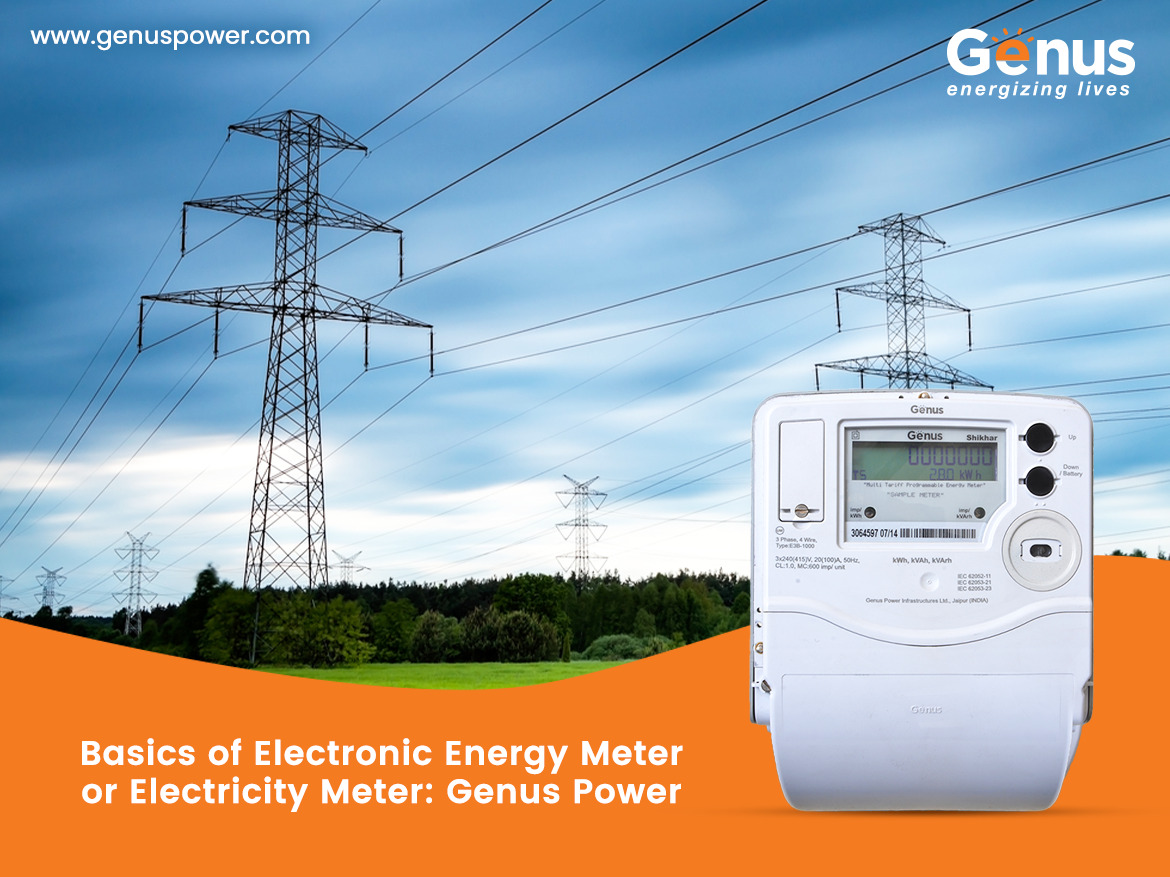 Powering everything from our homes to workplaces and beyond, electricity has become an irreplaceable aspect of modern life. With increasing energy consumption, the need for accurate and efficient devices for measuring energy consumption has become increasingly important. 
An electronic energy meter, also known as an electricity meter, is a device used to calculate the total energy consumed by any given household, office or building, or industry. In this blog, we will explore the basics of electricity meters, their types and advantages, and their future potential. 
Utility providers utilize these energy meters to measure the amount of energy used by any premises to generate electricity bills based on consumption. It works by measuring the energy flow in kWh (kilowatt-hour) using different types of electricity meters to analyze energy efficiency. 
When talking types of electric meters, there are five different types of electric meter options, including single phase meter, three-phase energy meter, BTU meter, LTCT and HTCT energy meters, smart energy meter, and prepaid energy meter. 
Advantages of Electricity Meter-
High Accuracy

– Electronic energy meters are highly accurate and have a low error rate compared to electro-mechanical meters. 

Wider Measuring Range

– Electricity meters have a wide measuring range and are capable of accurately measuring energy consumption even at low levels.

Lower Maintenance –

Electronic energy meters have fewer moving parts, thus needing lesser maintenance. 

Tamper-proof –

An

electricity meter

is difficult to tamper with, as they come with anti-tampering features and are designed to detect and record any attempts at tampering. 

Remote Communication

– Modern electric meters come with the option of integrating communication modules for remote monitoring, data collection, analysis, and more, making it more convenient for utility companies. 

Additional Features

– Electric energy meters come with additional features such as time-of-use metering, power quality monitoring, load profiling, and more, providing information to utility companies and users. 
Electricity Meter in Action
In recent years, electricity meters have been successfully installed in households, businesses, institutions, industries, and other private or public premises to monitor costs and efficiency and reduce costs. 
Utility companies have implemented smart grid solutions that utilize electronic energy meters to monitor energy consumed in real-time, allowing adjustments to energy supply accordingly in order to prevent blackouts. 
Similarly, homeowners and businesses use modern-day electronic meters to monitor and identify areas of high energy consumption, helping in implementing energy efficiency measures and thus saving energy losses and costs. 
Genus Power Infrastructures has successfully installed more than 70 Million electricity meters in India and abroad. Additionally, Genus has become the first company in the Asia Pacific to supply more than 3 Million smart electricity meters while having supplied more than 85% of smart meters installed in Indian utilities. 
Future of Electricity Meter 
Meters have come a long way since their invention, and their future looks even brighter. The smart electricity meter is capable of seamlessly integrating with other smart devices, allowing monitoring and optimization of energy consumption. 
The information exchange between the user and the power supply bureau is one of the most important elements of smart meters. Convenient and user-friendly management is vital, which calls for a microprocessor with higher information processing capabilities. Electric meter development will move in the direction of systematization, networking, and modularization.
The introduction of artificial intelligence, machine learning, and blockchain technology has immense potential to revolutionize the way electrical energy is traded, stored, and consumed. 
As we strive towards more sustainable and energy-efficient systems, electronic energy genus meter providers will continue to play a crucial role, allowing users to make informed decisions about energy consumption, reduce waste, and minimize our carbon footprint. 
Conclusion
From single-phase energy meters and three-phase meters to the single or 3 phase meter box India, Genus has a wide range of reliable and accurate energy meter solutions. With state-of-the-art technology and industry-leading expertise, Genus offers the best-in-class energy meters providing unparalleled precision and efficiency.  
Visit our shop now to explore our products and services. Choose Genus and take the first step towards better energy management.