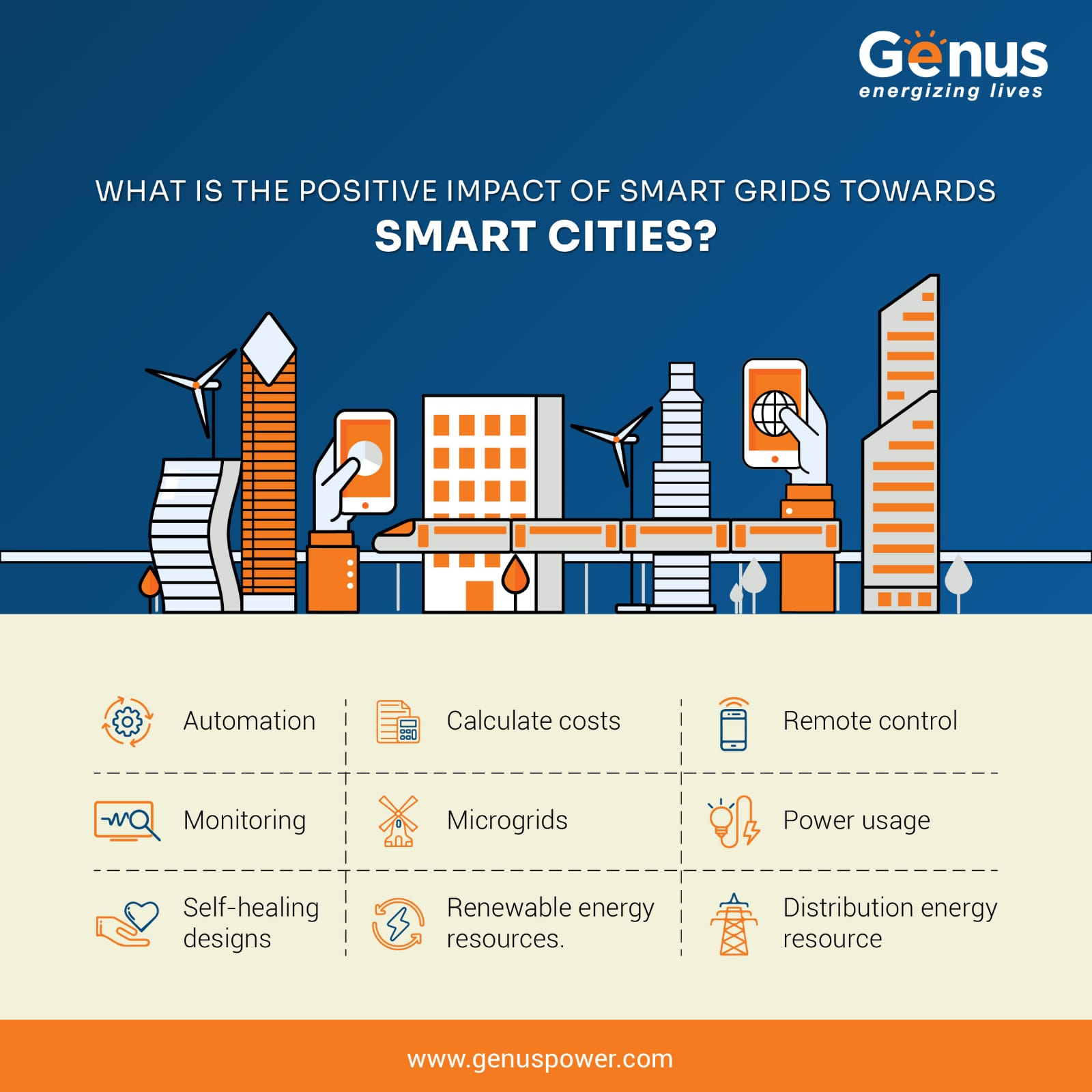 In any city, the energy infrastructure is the single most essential feature, especially the smart cities. If offline for a significant amount of time, all the other functions will eventually come to a grinding halt. 
A smart grid is, therefore, a good energy infrastructure option for a smart city. It does three things: 
It modernizes electricity systems through automation, self-healing designs, remote control, monitoring, and the establishment of microgrids. 

It educates and informs consumers about their power usage, allowing them to calculate costs and autonomously make decisions about their power consumption.

Lastly, it allows for the safe, reliable, and secure integration of renewable and distributed energy resources.
All these functionalities add up to an energy infrastructure that is more sustainable, reliable, and resilient. As a result, smart grid solutions make up the heart of a smart city.
How Do Smart Grid Solutions Allay the Shortcomings of Traditional Infrastructures?
Currently, the power distribution system possesses static consumer tariffs, is unidirectional, and typically incorporates simple meters, incapable of two-way data exchange. Of course, in some instances, they are required only for remote reading purposes. Still, most of them lack bi-directional digital communications capabilities.
Advanced metering infrastructure (AMI) and smart grids for smart cities fill this gap by connecting the consumers and power generation grid via a bidirectional exchange of information. The most important element in this is the smart meters, which enable the users to calculate real-time and exact electricity usage through functions like dynamic pricing and others at system level.
Plus, consumers can also review their contribution to carbon emissions, allowing them to make more informed decisions. As a user, you also get the freedom to control usage from high-wattage appliances like electric water heaters, air conditioning, refrigerators, etc., by virtue of smart grid-enabled functions like peak demand management. On the provider side, a smart grid will bring about an ease in demand and supply management. 
Also, with more and more EVs on the road, having a smart grid infrastructure will help utilize the energy produced/stored by the consumer to compensate for the 'spinning reserve' of wind turbines. Changing an unintelligent infrastructure into a smart one lies in creating a system of adaptive feedback loops, allowing the grid itself to learn the ropes rather than requiring human intervention at every turn. 
At Genus, our flagship range of smart Genus meter is capable of handling the elevated functionalities and capabilities of a smart city. Visit our website to learn more about the range of smart electricity meters available at Genus.
Read more: Rollout Strategy for 250 Million Smart Meters in India
How Does a Smart Grid Work?
In addition to the conventional grids' power-generating facilities and transmission networks, the smart power grid consists of 3 components:
Digital communication systems

Smart control and measuring devices

Computer software programs
The smart devices mentioned above include computer-controlled generators and power sources, as well as meters, smart electronic devices, and dedicated monitors, the sole purpose of which is to gather information about the power demand of smart cities, its availability from diverse sources, the delivery capacity of each component of the grid and the energy flow throughout the system.
Software programs written for the grid allow utilities to determine electricity efficiency as well as monitor the electrical functions of consumers and generators. 
The final part is the digital communication and control infrastructure, which is what makes the grid truly smart. It employs sensors that monitor and report the status of grid-enabled devices. This real-time flow of information allows system operators to anticipate, diagnose, and curb issues that can cause massive interruptions and serious disturbances in the power supply. 
All in all, with smart grid technologies, users and utilities both have enough control over their energy consumption and cost. 
Ride on the smart transition wave with Genus' assortment of smart meters, designed keeping in mind efficiency and reliability. Check out our 3 phase meter panel board and other smart devices by visiting our website. 
Wrapping Up
As you can see, a smart grid solution can be the answer to what makes smart cities truly smart. By putting the consumer's hand on the wheel, this system allows efficient usage and demand distribution not only from the end of utilities but the end users as well. In a nutshell, it's an indispensable part of a smart city, without which it cannot be truly smart.
Get the highest quality smart meters – the building block of a smart grid infrastructure – at Genus Power, the leading supplier of smart metering solutions in India. Connect with us to learn more about our solutions and products.