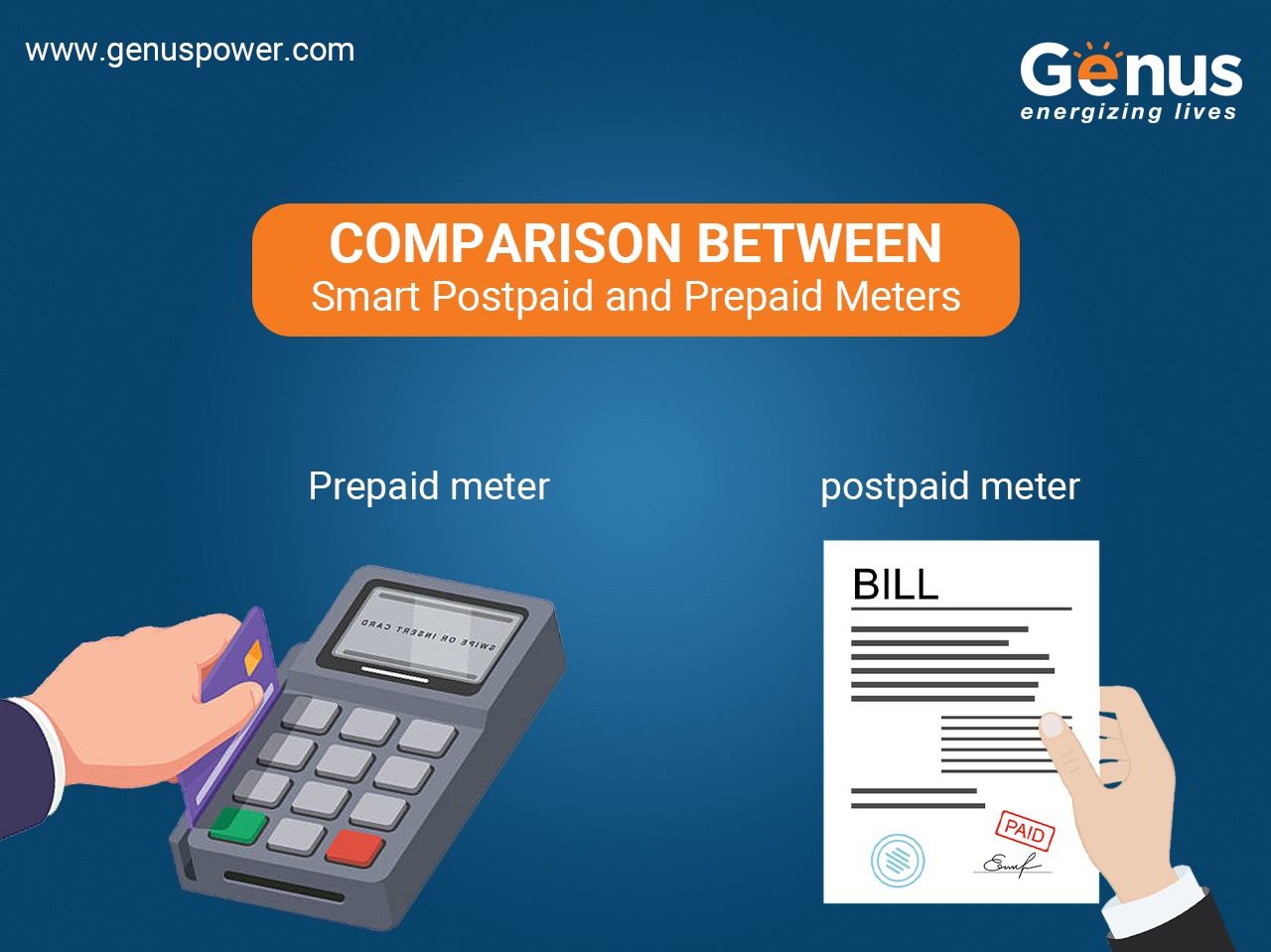 While having a smart and efficient energy market provides electricity and monetary savings for consumers, there are still those who find procuring a resource as critical and basic as electricity too expensive. If a consumer can't afford an electricity deposit, has poor credit, or requires month-to-month flexibility, a conventional postpaid plan doesn't help in any regard.
Prepaid meters, however, don't require any deposits or credit checks and only needs a payment of a fixed cost from your side at the beginning of the month. When you think about it, this can be an affordable and fairly attainable solution for distressed customers.
But as the saying goes, "to each their own." There are times when postpaid metering makes sense and times when prepaid smart meters work better. Read below to find out more about prepaid vs postpaid metering, and learn how to figure out which one is right for you!
Prepaid Meters vs Postpaid Meters – A Comparison
Choosing between a prepaid and postpaid metering plan has a lot to do with your personal billing preferences. For example, if you do not fancy paying for your electricity upfront and are down with the idea of getting locked in for a year at a low rate, postpaid electricity is the ideal option for you. 
On the other hand, if you lack the credit or financial freedom to pay the deposit upfront and require month-to-month flexibility, prepaid meters are the way to go. Here's an in-depth comparison for better understanding.  
Prepaid Smart Metering 
As the name suggests, a prepaid electricity plan allows you to pay for your electricity in advance by shelling out a fixed cost at the start of each month. The price is set by the customer, for which they get a fixed amount of electricity. 
If you think that your balance is depleting too fast, you can always top it up for some extra units that will get you through the month. As you can see, this type of metering puts the reigns of electricity and monetary usage in the hands of customers. It allows you to set a restriction on your usage via advance payment at the start of each month rather than paying at the end of the month based on your usage. 
With this methodology, you avoid the infamous late fees applied to delayed bill payments. That said, you risk service disconnection if you run out of balance and forget to top up. All in all, it's an even trade-off of inconveniences. 
Opt for the Genus meter for accurate bill calculation and usage statistics, and unlock savings like never before. 
Coming back to prepaid energy plans, they also promote energy savings via real-time insights on your energy usage and incentivize you to stay into your pre-determined energy budget. Also, if you move around a lot or are going to in the future, prepaid energy plans are the way to go as there's no contract that binds you, allowing you to maintain flexibility. 
But there's always another side to the coin. In the case of prepaid metering, it's the frequent fluctuations in energy rates. Since you're working on a month-to-month agreement and not an annual arrangement, you are susceptible to any per-unit rate changes with prepaid meters.
Postpaid Smart Metering
Postpaid metering is the traditional billing system, allowing you to lock in a fixed electricity rate for both the short and long term. This gives you the assurance of knowing how much you'll pay per kWh for the duration of the contract, thereby protecting you from rate fluctuations. 
As mentioned above, you pay for electricity after you've used it before. Since it's the more conventional electricity billing system, the deregulated market allows providers to put up competitive prices, meaning there's always a variety of prices and features available to the customers. 
Be it prepaid metering or postpaid metering, provide accurate billing to your consumers via a state-of-the-art 3 phase energy meter range from Genus.
Once you receive the bill, you have a set amount of days before which you must make the payment. Any delays beyond that will cost you extra as late payment fees. If you don't pay the late fees along with the original amount in the grace period set by your provider, you'll face permanent disconnection of electricity services. 
Your Turn
Whether you prefer low barrier-to-entry prepaid meters with month-to-month flexibility or are looking to lock in for a long haul, you have options that suit both preferences. 
Moreover, you have many options to choose from when it comes to metering as well. Carry out consumer metering, distribution transformer metering, and smart grid development seamlessly with Genus Power's range of premium meters.
For more information, connect with us right away!