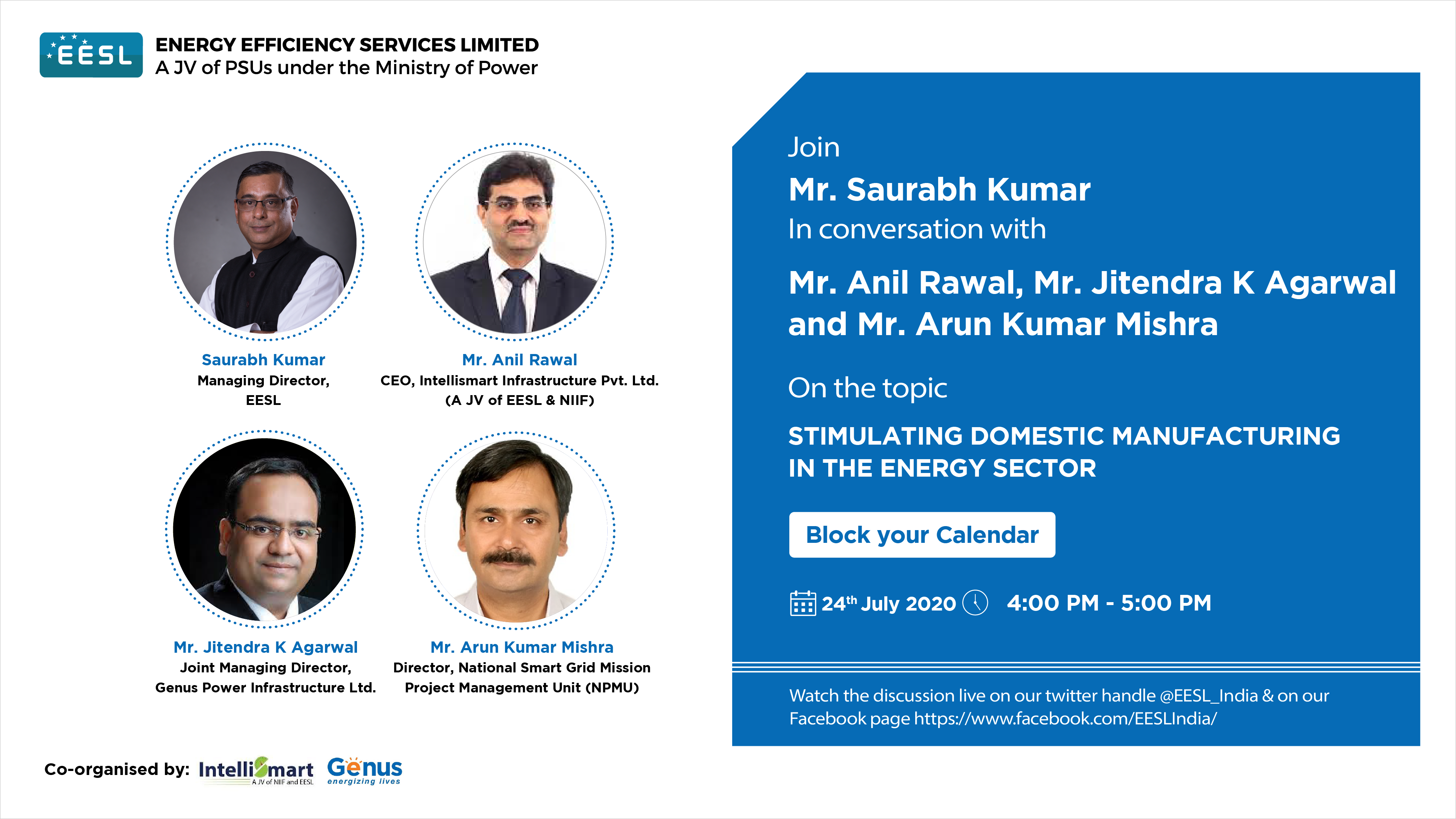 Invitation to the live session Titled "Stimulating domestic manufacturing in the energy sector"
The session features Mr. Saurabh Kumar, MD EESL in an exclusive conversation with key experts Mr. Anil Rawal, CEO, Intelli Smart, Mr. Arun K. Mishra, Director, NSGM Project Management Unit and Mr. Jitendra K Agarwal, JT Managing Director, Genus Power Infrastructures Ltd.
About Energy Efficiency Services Limited (EESL) – An energy service company under the Ministry of Power, Government of India. The world's largest public ESCO, Deploying the largest Smart Meter roll out in India. www.eeslindia.org
About National Smart Grid Mission (NSGM) – Ministry of Power, Government of India Enterprise. Responsible for Planning and Monitoring the policies and programs and accelerating the Smart Grid deployments in India. www.nsgm.gov.in
About IntelliSmart Infrastructure Private Limited – A joint venture of EESL & NIIF. Responsible for Smart Meter Roll out in India via collaborating with Stakeholders to Finance, Procure, Deploy & Provide O&M (Operation & Maintenance) for Smart Metering infrastructure.
About Genus Power Infrastructures Limited – Largest manufacturer of Smart Energy Metering Products and Solutions in India. Having an installed base of 60+ Million Energy Meters across the Globe.
Join this session that goes LIVE on
Friday, July 24, 2020
4:00 PM – 5:00 PM (GMT +5:30)
Watch the Live session on social media handles