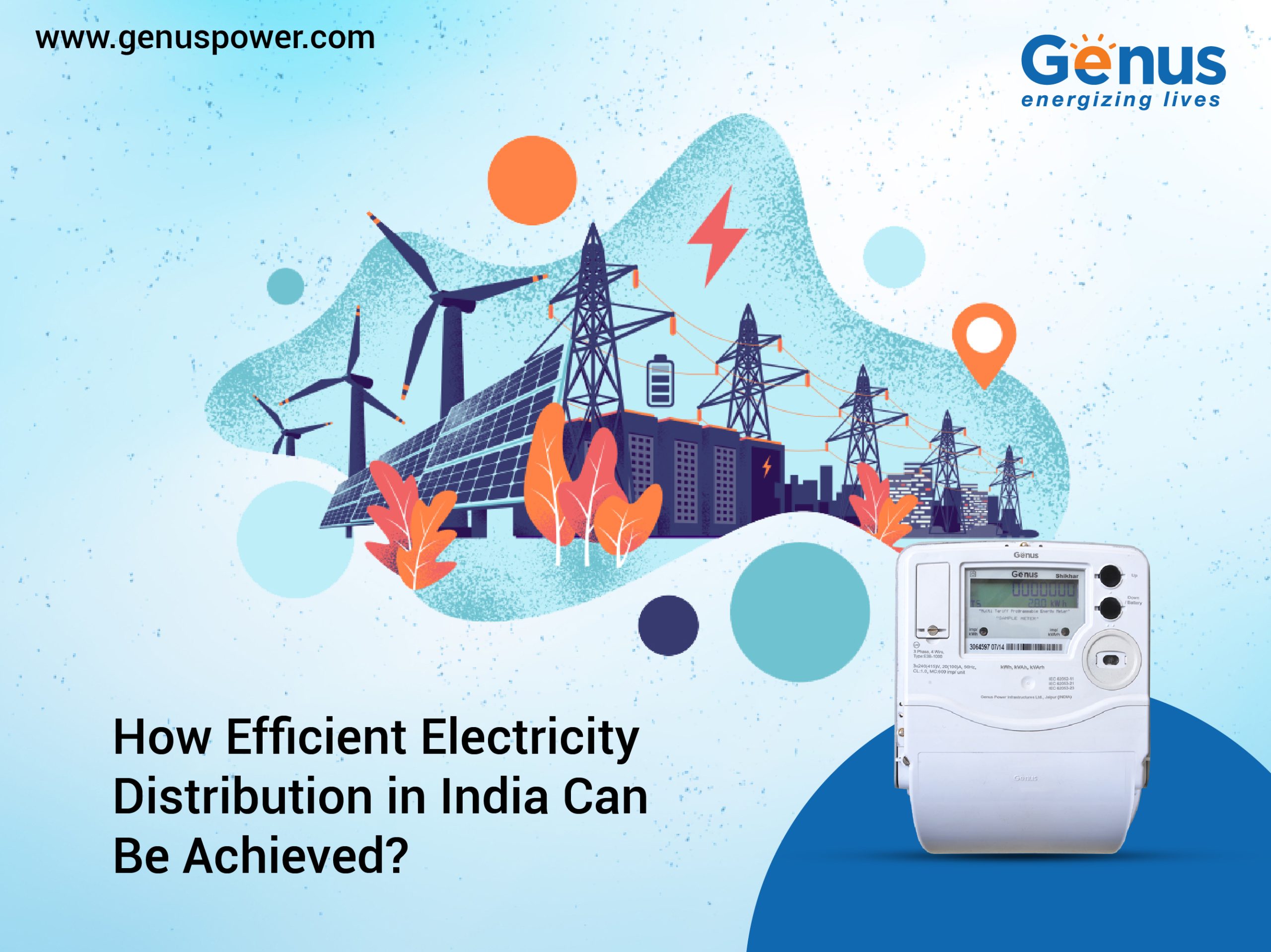 India in route to achieving Efficient Electricity Distribution 
Currently, the electricity distribution scenario in India is changing from traditional one to the smart one. And given the climate crisis and resource shortage, the change to the smart one seems to be the more sustainable option. 
However, achieving energy efficiency is easier said than done. It requires many changes in the power grid infrastructure and other power delivery methodologies.
To give an idea on the same, here's a blog on the transformation dynamics of the power distribution domain with reference to India, brought to you by Genus Power – a leading manufacturer of Smart metering solutions in India.
How to Achieve Efficient Electricity Distribution in India?
1. Embracing Smart Meters and Smart Grids
Today, the national billing efficiency of India stands at 83 percent. To bring this percentage close to 100, smart meters and prepaid meters can come in handy, as these are designed to relieve the many billing and collection pain points, the utilities face currently.
With smart meters, one can effectively reduce human intervention in the energy infrastructure, bringing delays and errors down to the minimum. This is beneficial for both DISCOMS and end-users. 
Smart meters also set the stage for the development of smart grids, which brings together metering, communication, and automation technologies to create an interoperable, end-to-end system that controls and monitors electricity distribution in real-time. Not only that, it also brings to the table, benefits like data transparency for utilities and consumers alike, improved tariff designs, enhanced analytics, and better demand management. 
Interested to know the many benefits of smart meters and grids? Well, tap into these smart advantages with best-in-class and cost-effective smart metering solutions provider from Genus Company.
2. Upgrading the Power Infrastructure
Here's the hard truth – many distribution companies, under the burden of long-term contracts and loans, are unable to upgrade their infrastructure due to paucity of funds. 
So, against a backdrop of poorly-functioning transformers, damaged conductors, and malfunctioning equipment, utilities are facing huge technical losses. This affects the efficiency of electricity distribution in India in a negative manner. 
However, utilities can cut down on losses easily by making some intelligent decisions. For instance, for grids located on the outskirts of a city, one can lay down the wires underground rather than overground to prevent thefts. Where, underground isn't an option, one can use bunched cables to make theft quite difficult. 
Plus, in the case of distribution transformer, one can study it and the load profile and accordingly modify the grid infrastructure based on the load. This will prevent any power losses.
3. Demand-Side Flexibility
There is no doubt that smart metering infrastructure can significantly improve the billing and collection efforts of utility providers. However, they also have another game-changing USP, in that they allow energy providers to enhance their load management capabilities, thanks to the steady flow of consumption data available from Smart meters. 
This allows them to predict the power requirements of their users, and accordingly fine-tune the energy delivery, facilitating better handling of renewable resources and distributed assets. And with residential, commercial, and industrial energy demand always on the rise, efficient resource allocation and energy distribution in India, which ultimately leads to demand-side flexibility, can be of huge benefit to the providers. 
Plus, this adds a layer of sustainability to the energy infrastructure, as now utilities can deliver energy as per the need, and not in a one-size-fits-all manner. So, by using the data from meters effectively, one can easily achieve efficiency in power distribution. 
For demand-size flexibility, having a robust metering infrastructure is imperative. And for that, Genus can support utilities with its range of Smart Metering Solutions. Head over to its website to know more about Genus' range of meters. 
4. Reducing Power Procurement Cost
As mentioned above, costs present one of the more tall barriers, standing between utility operators and efficient electricity distribution in India. And it's because of the long-term power purchase agreements (PPA), which are quite detrimental to the power sector.
Because of these contracts, utilities can't allocate resources toward efficient power distribution. And the unfavorable part is – most of these purchase agreements are signed on the basis of inaccurate demand estimates, due to which DISCOMS end up paying more for power that goes wasted.
With the introduction of short-term power, this problem can be solved. The short-term power market, which has seen a constant CAGR of 8%, can help utility providers procure power on a need-basis, eliminating any contractual obligations. The money saved, hence, can be used to upgrade the energy infrastructure with smart grid functionalities. 
Wrapping Up
Now that there are ways in which energy efficiency can be achieved in the distribution infrastructure particularly in context to Indian scenario, utilities can add a degree of sustainability to the grid, while cutting costs and reducing wastage.
To make the sustainable and smart switch, turn to Genus Power's range of intelligent metering solutions and achieve unmatched efficiency. Connect with us today to learn more about our products and solutions.